March 12, 2018 - Miami, Florida, US - The most anticipated multi-class regatta in Miami took place from March 5th to March 11th, 2018. Teams representing countries from all over the world met again and lined up under Miami's sunny skies on Biscayne Bay to compete for the celebrated Miami Sailing Week trophies.
Following a few years of absence, the Melges 24 class returned for the 8th Annual BACARDI Miami Sailing Week event.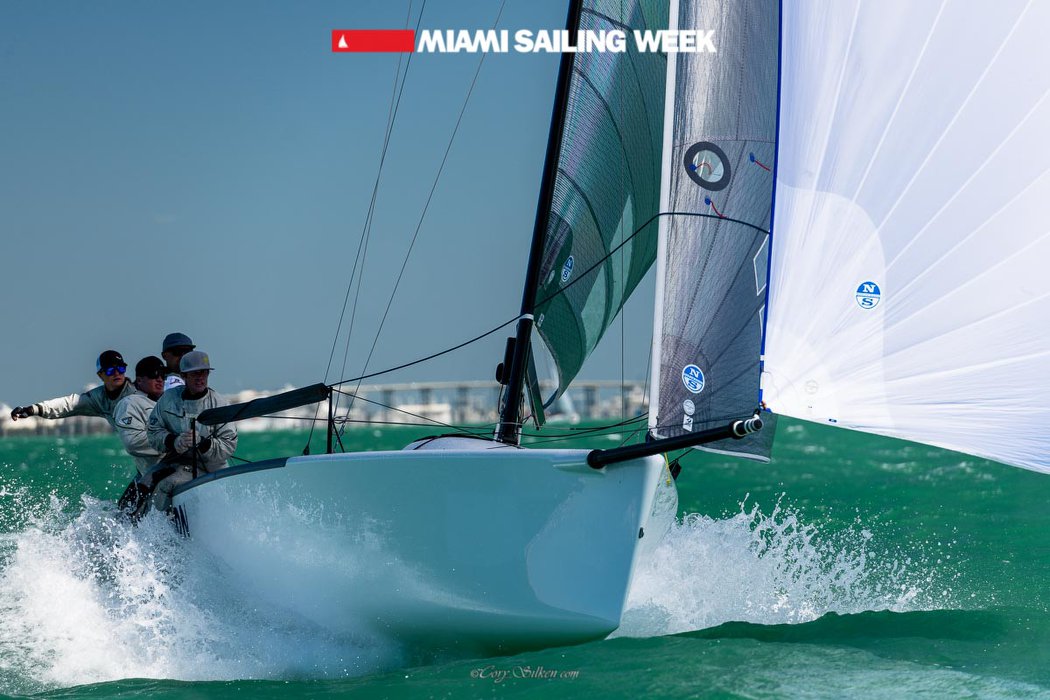 Bruce Ayres' Monsoon USA851 - photo (c) Cory Silken
The Melges 24 completed 9 races with
Monsoon
skippered by Bruce Ayres (Newport Beach, CA) winning with two bullets , three 2nd places and two top 5 finishes. Finishing 2nd was Brian Porter skippering
Full Throttle
(Fontana, WI) with two bullets and 7 top 10 finishes, and in 3rd was
MiKey
with Kevin Welch (Anacortes, WA).
Top 5 Overall:
Monsoon, USA851, Bruce Ayres - 3 -6 -[16] -1 -2 -2 -1 -4 -2 ;

21

Full Throttle, USA849, Brian Porter - 5 -[7] -5 -2 -1 -1 -6 -6 -4 ;

30

MiKEY, USA838, Kevin Welch - [10] -3 -1 -3 -3 -7 -7 -1 -8 ;

33

Team RRH, NOR732, Jan Frederik Dyvi - 2 -4 -[16] -4 -9 -8 -2 -5 -1 ;

35

Zingara, CAN853, Richard Reid - 4 -2 -4 -5 -10 -3 -[13] -2 -5 ;

35
Top 3 Corinthians:
9. Decorum, Melges 24, Megan A. Ratliff , Chicago, IL, USA - 6 -[14] -5 -8 -5 -13 -12 -9 -10 ; 68
10. Jaws, Melges 24, Roger Counihan , Atlanta, GA, USA - 8 -12 -[13] -12 -7 -5 -8 -10 -9 ; 71
11. Party Girl, Melges 24, Jens Altern Wathne , Loddefjord, Hordaland, NOR - 13 -5 -6 -[14] -12 -9 -9 -12 -11 ; 77